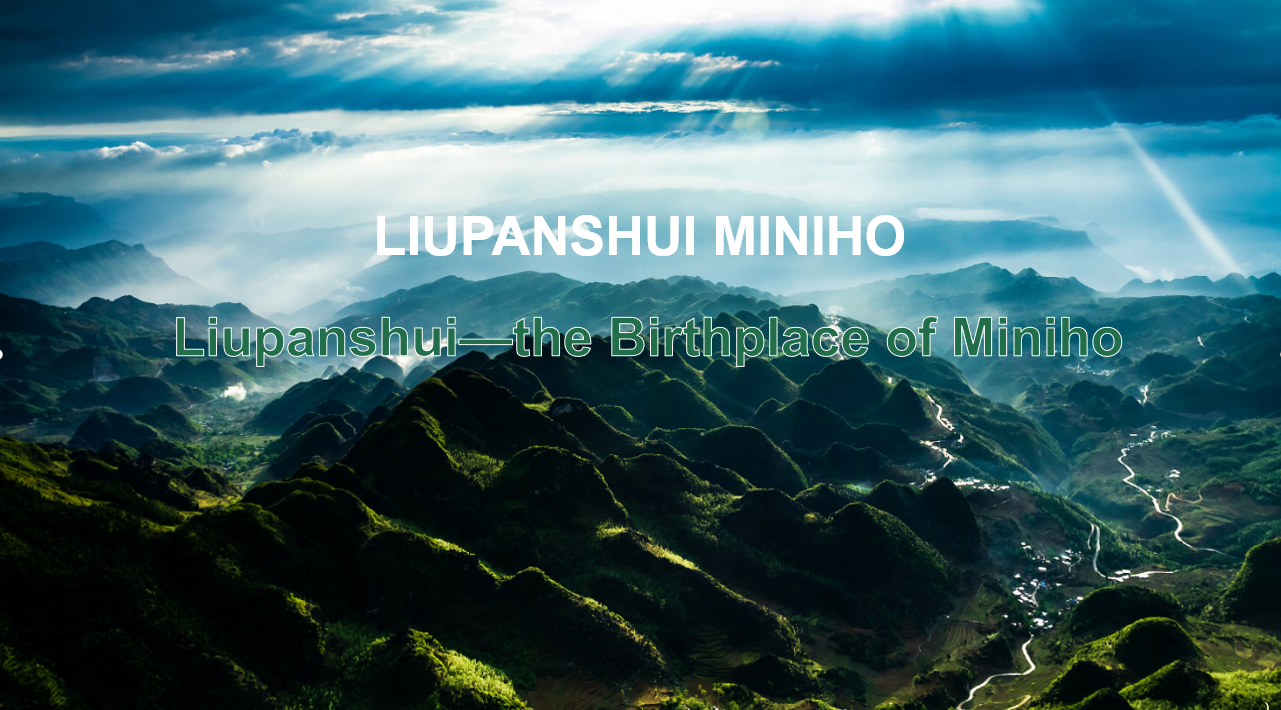 Liupanshui is an important natural distribution area and an ideal growing place for wild kiwifruit.
In January 2014, the China Wild Plant Protection Association officially awarded Liupanshui City the title of the hometown of wild kiwifruit in China.
In recent years, Liupanshui City has attached great importance to the development of the kiwifruit industry, established and improved protection mechanisms, strengthened protection measures, and expanded the scale of artificial planting, which has achieved remarkable economic benefits and far-reaching social influence.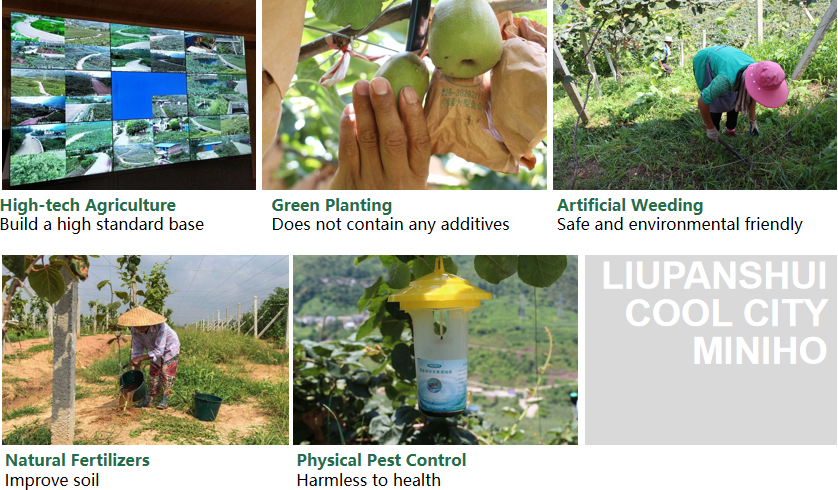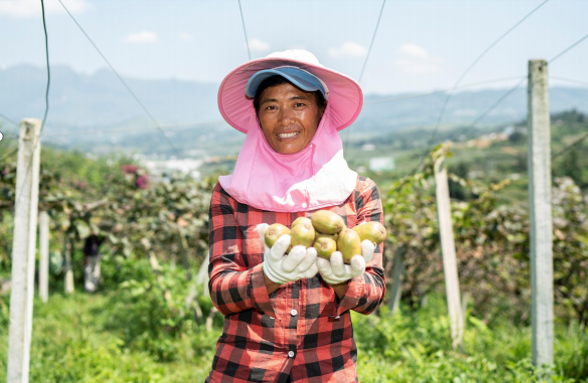 Hongyang, Donghong, Jinhong No. 50 and other fine red hearts are the main ones, and other fine varieties are supplemented.
Unify planting standards and planting techniques, unify deep processing standards and cold preservation standards.
The heart-warming taste of national honey fruit!
Unified fresh fruit packaging, unified packaging of processed products.
Unify the external sales market strategy.
Guizhou Miniho Sales Co.Ltd. is the only external sales platform.
Sugar Comparison
The best taste after soft ripening, the sweetness reaches 21.7 degrees, and the taste is harmonious.
The average can reach 19.5
PS:The average Brix of Zespri Golden Fruit is less than 18
Base picking standard red line
Base picking standard red line
Soluble solids (Brix) shall not be lower than 6.5, dry matter shall not be lower than 17, fruit firmness shall be guaranteed
The actual average sugar content after picking is about 9
Not up to standard, not picking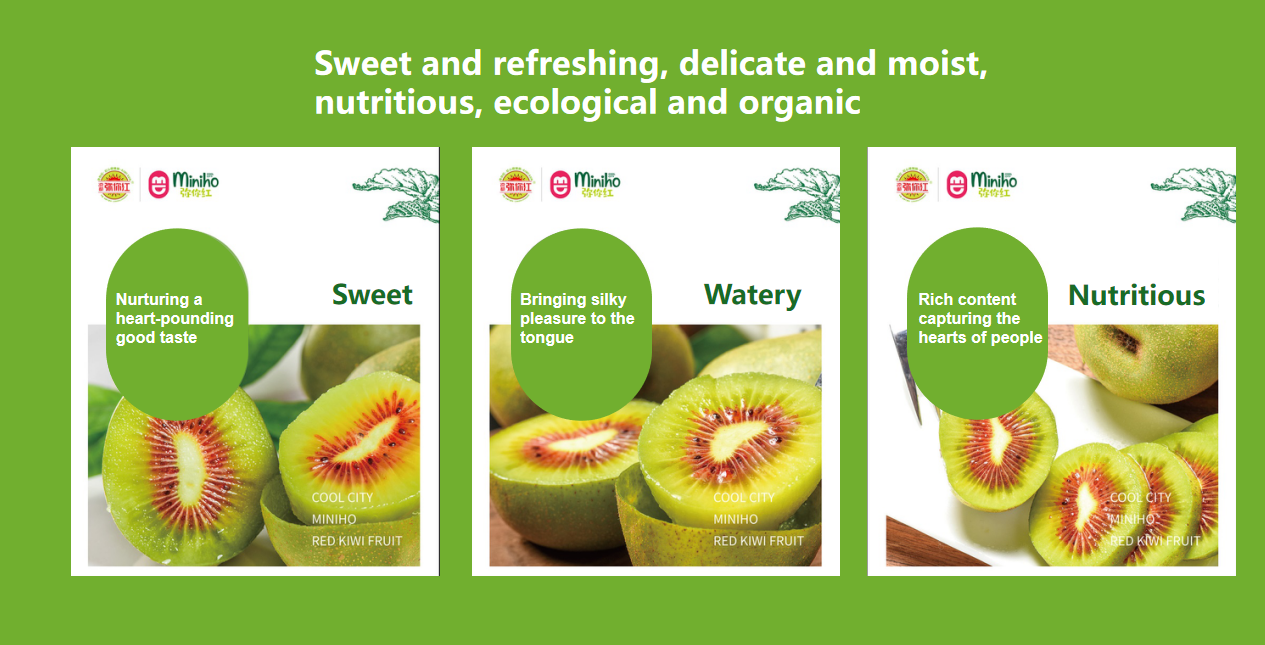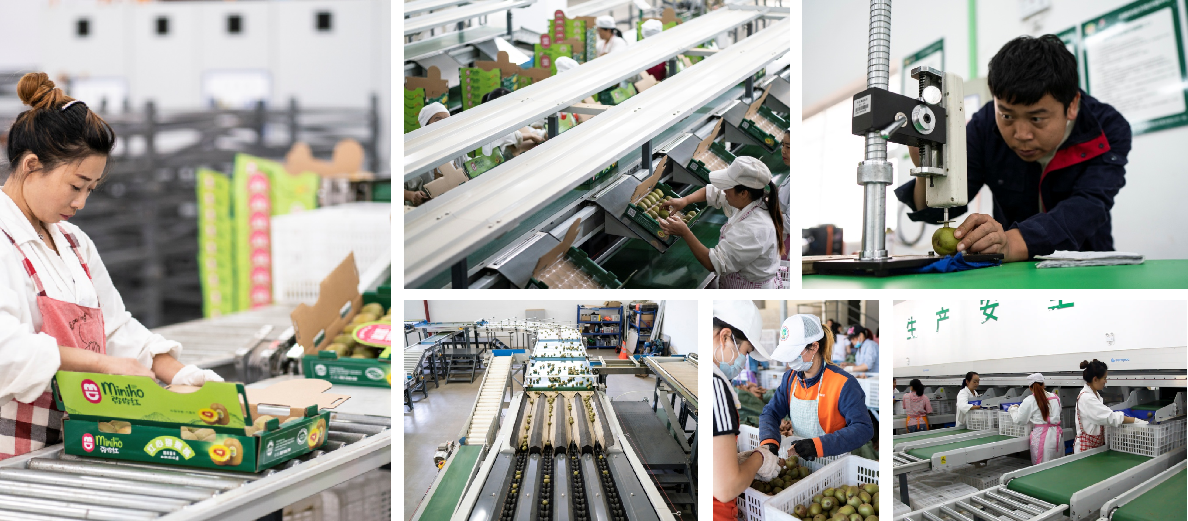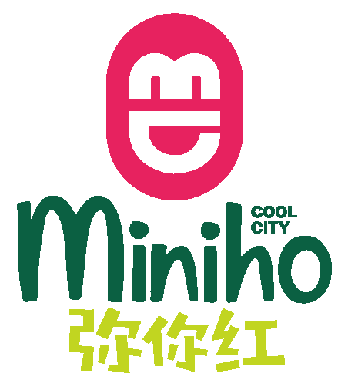 Brand Name:Miniho
Brand meaning:national honey fruit, heart-warming taste
Brand connotation:a red heart goes all over the world,
all sweetness fills your life
弥 / means 'full, long, far', full of flesh, full of elements, and full of taste. It fully combines ancient natural wildness with modern scientific and technological elements.It is precious and will be with you for a long time, better and farther out of the mountains and into the world;
你 / means the distinguished guests from mountains and rivers from afar, we welcome and accompany them with sincere heart;
红 / Means a 'red heart', with the prosperity of life, career and industry.